No more England for Mears, Hodgson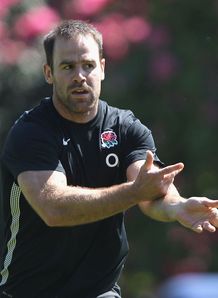 Charlie Hodgson and Lee Mears have decided in conjunction with England coach Stuart Lancaster that they will not be selected for the EPS in July.
The pair returned from South Africa on Monday, having discussed their international futures with Lancaster, who said the move was a tough one.
"Firstly, both Charlie and Lee in the last six months have been outstanding senior players and I cannot thank them enough for the support they have given me and this young squad as we move forward," explained the head coach.
"With 80 caps between them (Hodgson 38, Mears 42) they have a vast amount of experience and that has been invaluable. I had chats with both of them in South Africa and our thoughts were not too dissimilar – that if we are building a team for 2015 then, just as we did in January, we have to decide on which players will take us forward and be in the mix in three years' time."
Hodgson won 38 England caps over an 11-year international career while Mears played 41 times and made one appearance for the British and Irish Lions, against the Boks in 2009.
"I have been very proud to represent England over the last 11 years. Wearing the shirt has always been the highest honour for me, not least in the last six months, and no-one would want to give that up," said Hodgson.
"But Stuart and I came to the same conclusion that the time is right to let a new group of fly-halves take England forward. Saracens have been very good to me and been key to me getting back on the international scene and I can now fully focus on them, not to mention a young family."
Mears added: "The memories of playing international rugby will live with me forever. I feel privileged and proud to have experienced two World Cups and a British Lions tour and to have had outstanding team-mates.
"While I won't be a part of it, having seen what Stuart has implemented over the Six Nations and in South Africa, I am excited about the future of this group of players and English rugby and I wish them all the best. I have at least one more year at Bath left and with a new coaching team I am excited about next season."
Rugby Union betting odds