Bismarck to hit a ton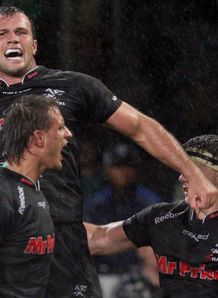 Bismarck du Plessis will play his 100th Super Rugby game for the Sharks this weekend but the Springbok hooker is focused on the trophy, not numbers.
Saturday's Super Rugby Final against the Chiefs in Hamilton will mark a huge milestione for du Plessis but he admits that it was never in his sights when he started out as a young understudy to Springbok and Sharks captain John Smit.
"This milestone is not really something I have been thinking about all that much, I don't want to be thinking about other things when there is a much greater task at hand," said du Plessis .
"We have a great opportunity to achieve something as a team which is so much more special."
"When I arrived at The Sharks, all I wanted to do was to play 10 games, and when I did that, and then more, it was a massive privilege for me. I'm very grateful to everyone who has played some role in where I am in my rugby career at the moment.
"When I starting playing senior rugby with The Sharks, there were players like Warren Britz, Charl van Rensburg, John Smit and others, they played many, many games for the Sharks and here I am seven years later, still playing."
Beating the both the Australian and South African Conference winners seems to indicate that the team has responded very well to pressure, which indicates huge growth in temperament and leadership. He admits that it was how they responded to their situation that showed their belief in themselves.
"We wanted to make something happen for us as a team, everyone had written us off, especially after the Lions game which was really disappointing for us, so we sat down as a group and set ourselves certain goals," he said.
"Then we started to achieve some of those goals and we built confidence, everyone was playing well for the team and things were happening for us, good things. And here we are, at the final."
"When we played the Chiefs in Durban, we lost that game, but we didn't play to our full potential. They're a team that has played consistently well all season, they're the form team of the tournament."
"We take no confidence from our away record, this is a final, a once-off game where anything can happen."
"We put ourselves in the position we find ourselves in at the moment and we just want to keep playing as we have been. A lot of hard work has been put in by the team and around the team and now we need to finish that off."