All Blacks consolidate top spot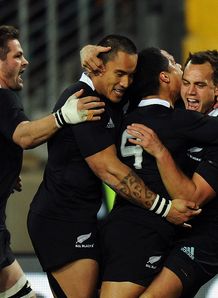 New Zealand have strengthened their position at the top of the IRB world rankings after their 27-19 win over Australia in Sydney on Saturday.
The All Blacks' triumph in the opening match of the Rugby Championship in Sydney means they extend their advantage over the Wallabies to 6.1 rating points.
New Zealand have held their position at the top of the rankings since November 16, 2009 and for 80 per cent of the time since the rankings were introduced in October 2003.
Australia's loss on home soil means they have not only slipped further adrift of New Zealand, but also back into the clutches of South Africa, the difference between the two now just 1.11 points after the Springboks beat Argentina 27-6 in the weekend's other Rugby Championship match.
South Africa's gain in rating points was minimal, being the home side and ranked five places above the Pumas, at just over two tenths. Had South Africa suffered a first ever Test defeat to Argentina then they could have equalled their lowest ranking of sixth.
Argentina remain eighth despite the loss on their Rugby Championship debut, albeit now little more than a point above Scotland, as they head home to face the Springboks in the return leg in Mendoza this weekend.
Rugby Union betting odds
With thanks to the IRB