Rafael Nadal won three straight clay-court titles entering the French Open, where he is 52-1.
Jasper Juinen/Getty Images
A quick pre-French Open Mailbag. We'll do men's and women's seed reports when the draw comes out on Friday.
Why can't Rafael Nadal and Serena Williams play against each other? Both are so BORING! Clay season is "Rafatigue" and now "Serena-fatigue," too.

– SRao, India
As he prepares for his exit, Sunderland defender Titus Bramble has thanked fans at the club for their support.
The centre-half has made 51 appearances for the club since arriving from Wigan in 2010 but his contract is coming to an end and it is looking increasingly unlikely that he will be offered a new one.
The defender has not made a first-team appearance since Paolo Di Canio's arrival as replacement for Martin O'Neill and he doesn't expect to stay on in the future.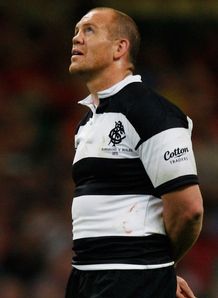 Former England international centre Mike Tindall will face his countrymen at Twickenham on Sunday after being named in the Barbarians' starting XV.
Tindall will line up alongside Casey Laulala in the midfield while Welsh duo Dwayne Peel and James Hook are the half-back combination.
Young Wasps back Elliot Daly has been handed the number 15 jersey alongside impressive finishers Taku Ngwenya and Timoci Nagusa.
Percy Harvin has received nothing but plaudits from his new teammates since arriving with the Seattle Seahawks, but it would be strange to hear anything else. It's the offseason.
We're more interested to see how Harvin will be used in Seattle's offense. Since offensive coordinator Darrell Bevell has experience coaching Harvin in Minnesota, it's fair to expect Seattle to line up Harvin in similar ways. Which means every way possible.
"I'll be moving around — pretty much all around," Harvin said Wednesday via the Seattle Times. "There'll be a little bit of running back coming up. But right now, we're just trying to get the foundation set, just running the base plays, and we'll see where it goes from there."
This is not a surprise. Harvin will primarily play in the slot, but the Seahawks wouldn't acquire him to just leave him in one spot. He can play well in the backfield and on the outside. As Albert Breer wrote earlier this offseason, possibilities are endless when you throw in Russell Wilson, the read option and Seattle's powerful running game.
Richard Heathcote / Getty Images
Sergio Garcia apologized Wednesday for making insensitive remarks at an awards dinner.
Penguins rebound from OT loss to crush Senators

Source:

Sports Illustrated
James Neal and Jarome Iginla each found the back of the net twice as Pittsburgh beat Ottawa 7-3 for a 3-1 series lead.
HOUSTON — A vendor at Houston's Minute Maid Park has been fired after a fan filmed him taking a tray of snow cones into a stadium bathroom and putting it on the floor of the stall while using the facilities.
The fan shared the video with the local NBC affiliate, which aired a report Wednesday night.